Retouching Studio Workflow
Adobe Photoshop Basic Class
Building Your Studio
What happens after you have the images on your computer, what is the first thing that happens? Do you have any idea what you should do next?
A favorite section for many beginners, this class teaches you how to properly maximize the workflow of your studio, so that operating smoothly becomes a cinch. It's not very productive to work in a disorganized mess, so we'll get those calibrating problems out of the way. We'll even teach you the various hardware and software options that'll get you up and running, so you won't have to worry about a thing.
Freelancing Best Practices
Having more than 20 years of professional experience in this field, I can tell you that I've spent countless hours poring over the best concepts for this class just so you can make the most out of it. We'll be happily discussing everything you need to know about working from home, how much to charge your clients, how to bill and keep them happy, how to make the best presentation for your website, and how to effectively manage your time.
Here is a brief sample of a few of the topics covered:
Freelance
Pricing – How much to charge
Billing – How to collect, and make them happy to pay
Time – Effective Management
Website – Presentation is everything
Image Handling
File Formats – RAW vs. TIF. vs JPG
Job Numbering, Tracking, Retrieval
MetaData – EXIF and IPTC
Delivery Options – DVD, FTP, Email
Archival Options – DVD, HD, Offsite
Hardware
Memory Cards – Speed Matters
Mac Vs. PC
Printers – What to look for in quality proofing
Scanners – $100 and $800 differences
Monitors – $200 and $1000 differences
Software
Image Management – Cataloging and Archiving Necessities
RAW Processors – Aperture, Camera RAW, Capture One and Lightroom
Image Editors – iPhoto, Photoshop Elements, and Photoshop
Photoshop Perfection:
Retouching Basics and Beyond
Have you tried teaching yourself Photoshop image retouching skills, but always find yourself more confused than when you began? Are you convinced that you'll never learn, that it's just too difficult, and that you should just give up? If so, here's how my course can help you succeed:
Premium Membership for Photographers

If you want to sit back and learn Photoshop in a way that was designed for your success, then this is the Membership Website for you. Stop wasting time trying to figure out Post Production by yourself.
I'll remove the confusion—you focus on learning. Forget about trying to learn Photoshop by watching difficult-to-follow YouTube videos. We can put a stop to that right now.
You have the opportunity to make the most of your images using an organized, well-thought-out teaching method that everyone will understand.
Are you a photographer who wants to make the most of your time? I am sure you would rather be enjoying your images, not learning five different ways to use Photoshop.
Let's concentrate on learning the 20% of Photoshop that will give you 80% of the results. Then we can get you back to your passion, the photography.
Premium Membership for Retouchers

As a retoucher, your goal is the same as the photographer; make great looking images. However, you need to take your retouching skills to whole different level.
You actually want (and need) to learn the 5 different ways to overcome every problem you will be faced with everyday. Wouldn't it be great if you could sit with a skilled professional, to learn everything there is to know about Retouching Images?
I have great news for you. Every video on this Membership Website was created by the same professional retoucher with more than 20 years experience.
Everything you could possibly want to know has been organized in a way that no one else has ever done before. This is your one stop for everything from basic through advanced.
If you want to sit back and learn Photoshop in a way that was designed for your success, then this is the training for you.
---
Retouching Studio Workflow
Adobe Photoshop Basic Class
---
Class Time: 40 Minutes
Supplemental Video Time: 12 Minutes
---
Studio Workflow Class Notes – PDF
This PDF outlines all the topics covered in the class in a very detailed way. Anything that was not clear to you at the time, can easily be referenced. I suggest printing these PDF's out before watching any videos. This way, if anything seems unclear, you can read about it as you follow along. I also suggest printing double sided, and put them into a three ring binder. This way, when you finish all the classes, you will have a 100+ page book that you can reference as needed.
Studio Workflow Class Notes – "Right Click – Save As…"

---
Studio Workflow Class – Video
This PDF goes way beyond the topics actually covered in class. Mostly, one day I felt like writing (a lot), but only some of the topics were important enough to be covered in class, for everybody.
Note: Do NOT Use Google Chrome Browser. Any other browser will work. I simply can't seem to fix this. Sorry for inconvenience.

Software – There are many different programs that can be considered companions to Photoshop. Here, I talk about the most common options for the best images.
Hardware – There are many different types of equipment that can be considered companions to Photoshop. Here, I talk about the most common options that can help create the best images.
---
Supplemental Tutorials – Videos
These are simply suggestions of added videos that you could benefit from, that were partly covered in the full class. The videos below will give a full, and detailed information about each of the topics. They go beyond what is covered in the class.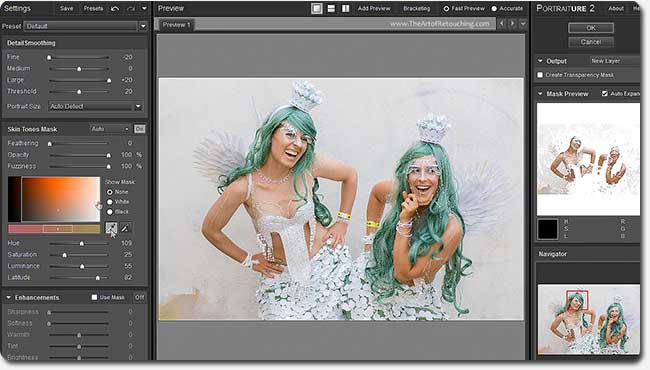 Portraiture – Create perfect skin for portraits, quickly and easily. It will also work as a plugin for Adobe Photoshop, Lightroom and Aperture. It will work with 8-bit and 16-bit images, in the RGB color space.
(Visited 632 times, 1 visits today)